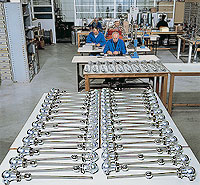 Our company
Created in 1937, Airindex, with an experienced and dynamic staff, large-scale investment in R&D and quality, has everything required to carry out its development policy in order to give you the best possible satisfaction.
The team
All the staff are shareholders in the company.
The General Manager :  an engineer from the world of industrial methods and measurement.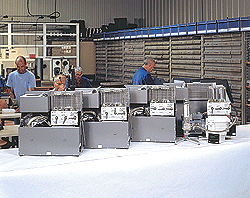 The Technical Manage :  has been behind several patents and has designed measurement appliance production machines.
The Production Staff :  experienced and quick off the mark. They have fully understood the importance of lead times and quality for the client.
The back-up staff :  ready to listen, analyse your needs and quick to react.
The history of Airindex
After several changes of owner and strategy, AIRINDEX is moving into a new development phase, which does not rule out external growth :
2005
Airindex absorbs its subsidiary TEPI System.
2003
Airindex acquires the TEPI System company.
2002
MBPS bought out the company and opened up its capital, 20% of which is now held by the staff.
Change of name : AIRINDEX Sarl.
2000
Rachat par la société Berruet Monnet (Dépt 69)
Changement de Raison sociale : BMI AIRINDEX Eurl
1991
Bought out by Berruet Monnet (Rhône département).
Change of name : BMI AIRINDEX Eurl.

1989

AIRINDEX parted with SOURDILLON and was associated with RHODES from the DELTA group.
Transferred to Chambray-lès-Tours (Indre-et-Loire département).
Change of name : RHODES AIRINDEX Sarl.
1985
The AIRINDEX instrumentation activity transferred from Courbevoie to Veigné (Indre-et-Loire département).
Change of name: SOURDILLON AIRINDEX.
1972
AIRINDEX was bought by SOURDILLON (Indre-et-Loire département).
1937
AIRINDEX S.A. was created by Messieurs Labinal and Bidault, at Courbevoie (Hauts-de-Seine département).
Some figures
The staff holds 20% of the company capital.